awesome powerpoint templates
Awesome powerpoint backgrounds are designed to enhance your presentation. If you've got powerpoint, you've probably tried the templates that come bundled with powerpoint. The standard powerpoint templates are OK, but they're not awesome. When presentations are made using our templates they start to look less like a powerpoint presentation and more like a professionally designed presentation. Of course the best looking presentation can still be boring, that's where you come in! You can design your presentation, on top of these templates, and the backgrounds will not get in the way, take up too much space, or be too overpowering. They just give you the power to get your point across
To see the actual backgrounds just choose a set
Awesome Backgrounds Benefits:
Professional Quality - Makes you look good
Small file size - Easy to email and won't fill up your hard drive
Complimentary color scheme - Saves you time choosing a color
Ready made pages - Saves you time
Unique - Your presentation will not look like everyone elses
10 backgrounds per set - You can combine the backgrounds into one presentation to give real impact to a talk on a particular subject
We always aim to leave the maximum amount of space to write your content
| | |
| --- | --- |
| Before | After applying the clouds template |
| | |
We know powerpoint
How frustrating is it when you are using a template that is not making the best use of powerpoint? It can be incredibly annoying. The worst that we have seen are where you click on a piece of white text to edit, and all of a sudden this white box appears, leaving you unable to see what you are typing. This is bad! Our templates do not suffer from this problem.
| | |
| --- | --- |
| some competitors | awesome templates |
| | |
| this is bad | this is good |
How annoying is it when some companies expect YOU to insert their backgrounds into powerpoint? We've done the hard work for you - awesome backgrounds are in powerpoint ready to go.
Each of our power point templates are optimized for the best results. They project onto the big screen extremely well. The filesize is very small indeed (the average is about 250kb or 0.25mb) while still retaining the quality.
Each template comes complete with a ready made:
- Title Slide
- Bullet List
- Bar Chart
- Line Graph
- Pie Chart
- Diagram
- A Blank Page
- Matching Color Scheme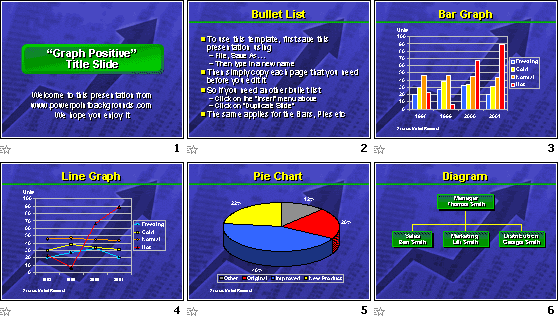 It really doesn't get any easier
Example templates
These thumbnails below show a selection from the many ppt templates we sell