Mad Contraption
This one slide demo presentation file shows animation on a small scale. It's great for: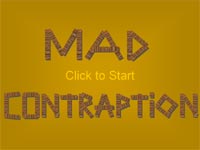 Theory:
Theory? How to get from A to B in the most complicated intricate way, using gears pulleys and gravity.
Just download the sample file below, load the presentation into powerpoint 2002 / XP / 2003 / 2007 / 2010 and run the slideshow
Then if you like what you see just press the "Esc" key to stop the presentation. View the "custom animation" page to see how we have done it.
To download the files for this demo right click the image below, then choose "Save target as" (IE), or "Save Link As" (Netscape).
The file downloaded is a Zipped file which will need unzipping.
It contains only a powerpoint file and a readme.txt file
Filesize 0.2mb (218KB)
Look on in awe as you travel back in time see the mad contraption:
Pull backs
Springs
Hot air balloons
Gravity
Dominoes
Contraptions
See saws
Human cannonballs
Electric motors
Hammers
Gears
Motors
Signage
Springs
You'll believe powerpoint can fly!
The following assumptions were made for this demo:
You are using powerpoint 2002 / XP / 2003 / 2007 or above.
This demo works best for "on-screen" presentations and not printed presentations
The same effects work if you are projecting your presentations using an LCD Projector
Kudos:
Here's some of the words people have used after seeing this mad contraption presentation
Things you never knew PPT could do
Love the dominoes falling bit
Cool!
Love it! Reminds me of that Mouse Trap game
Fun...a great viral ad
Have Fun!

Please Note: Although we have made every effort to check the files against viruses at all stages of production. It is always wise to run a virus checker on any software before running it. By Default! cannot accept responsibility for any loss, disruption or damage to your data or computer system which may occur while using either either the CD-Rom or downloaded files. It is assumed that by downloading the files you accept these conditions. Otherwise do not use the awesome backgrounds for powerpoint.
---
Download free awesome backgrounds for powerpoint




See the new awesome backgrounds for powerpoint