Having trouble downloading your backgrounds?
Click here if you've downloaded the files but cannot find them?
Against Company Policy
Our files are normally downloaded as something called an ZIP file. Inside the ZIP file are all the individual backgrounds compressed into one smaller file. When you open the ZIP file your computer will extract and uncompress all the backgrounds. Larger companies quite often will place an automatic block, to stop their employees from downloading an ZIP file.
This is an example message from a large corporation.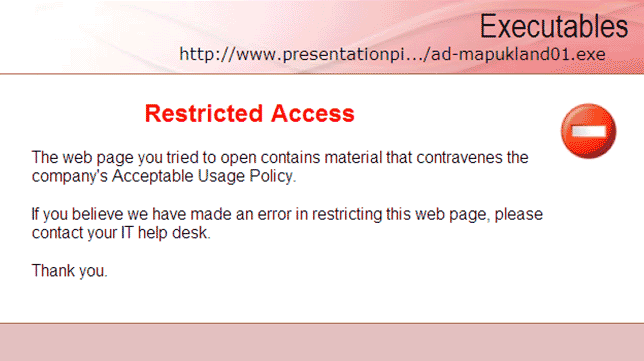 If you feel your company is blocking you from downloading templates, please contact your IT department for help.

An incomplete download is the most common problem
When a file is downloading, your computer should display a progress report. This is normally a blue or green bar that gets longer as the file is downloaded.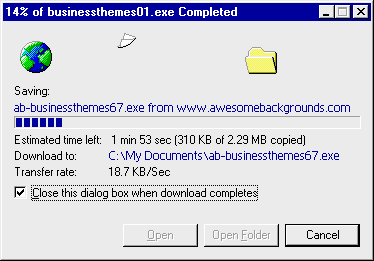 So what should you do?


Simply re-download the file again from the link originally provided
http://www.awesomebackgrounds.com/cgiscripts/uniquecode123/SetName4Code.htm

This sometimes does not work for some computers. As when you re-download the file, your computer thinks it already has the file, so does not re-download it.
In this case many people find that if they delete the incomplete file, before re-downloading the file, it works everytime.
In this case right click the file and make sure the 3 letter extension is .zip
[filename] is not a valid Win32 application
This can be caused by various reasons.
Please remember - we are here to help
We're not here 24/7, but we can help you buy emailing your backgrounds to your inbox ASAP.